Description

Even as a seedling, the Flower Monster begins to form flicks of fire. Explorers theorize that flammable chlorophyll veins evolved to prevent it from becoming an herbivore's snack. It is cactus-esque with an ability to absorb air moisture and store it, lest the low-burning fire constantly dehydrate it.

Purchase Cost
Habitat(s)

37 / 46 / 230
Game Generated Names
This is a list of the randomly generated names that the game give all new monster. You can change the name if desired. Please see this page for more information.
Ares
Ash
Blazer
Bloomer
Burnout
Comet
Cosmo
Daisy
Fields
Fire
Flare
Flicker
Forest
Funky
Garden
Kale
Leafy
Mossy
Pollen
Pyro
Rusty
Smokey
Spice
Spitfire
Sunspot
Thorny
Torchy
Weeds
Woody
Breeding Information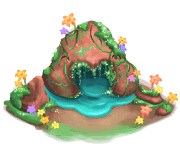 The Flower Monster can be purchased for

or bred by using Fire and Plant elements in the Breeding Den. Hybrids may be needed for successful breeding. Also see the comment section below for some suggested combos.
Mythic Information
Although hatching a mythic version of the Flower Monster is random, your best chance to get one is to breed 2 Flower Monster's together. You must have the Mythic Cave on your island in order to get a mythic. You can also use boost to better your chances.

 If you use two of the original Flower Monster forms, these two mythic parents will always produce a mythic Flower Monster. A suggestion for speeding up the production of the spree mythic types.
Monster Evolution
There are 2 stages in which Flower Monster will evolve. Before you can reach Level 5, you must evolve your monster from a baby to a teen. The second stage is before reaching level 8 and evolves your monster from a teen to an adult. To evolve your monster you need to place it in the Dream Room. Below is how long it takes the Flower Monster to evolve from each stage and the quick finish cost.
Evolve Time
Quick Finish Cost
Baby to Teen
3 Hours
3
Evolve Retry
15 Hours
5
Food Costs per Level
Baby
Teen
1
2
3
4
5
6
7
Food per Feeding
10
25
35
45
55
65
75
Total per Level
40
100
140
180
220
260
300
Totals
460
780
Needed for until spree
1,960
Earning Rates
Baby
Teen
1
2
3
4
5
6
7
Normal
13
25
38
51
63
74
83
Mythic
13
26
39
53
66
77
87
Evolutions
Flower Monster Evolutions
Below are the different evolutions of the Flower Monster. Each tab shows the normal & mythic image as well as food costs and coin rates.
Notes
The Flower Monster is an original monster from the initial release.
On March 26, 2014, the Floret, Posy, and Bloom spree forms were introduced.