Currently Expired Monster
Currently the Memorial Monster is expired and can no longer be bought from the market or bred using normal means (i.e. using 2 different monsters).

The ONLY way to get another one is to breed 2 Memorial Monsters together.
Description

This silent beast commands respect from those in the plains surrounding Monster Mountain. Observers believe it serves as a reminder to monsters of the valley, and that its presence signifies different meanings to all. Though this is speculation, one thing is clear: no one remains unaffected after crossing paths with the Memorial monster.

Purchase Cost
Habitat(s)

438
Game Generated Names
This is a list of the randomly generated names that the game give all new monster. You can change the name if desired. Please see this page for more information.
Atlas
Blizzard
Boots
Buster
Chiller
Clay
Cooler
Core
Crunchy
Crusty
Crystal
Dasher
Flaky
Freezey
Frosty
Gritty
Hammer
Hunk
Icicle
Pebbles
Rattler
Rocky
Sandy
Shadow
Sleet
Slippery
Sniffles
Snowy
Winter
Breeding Information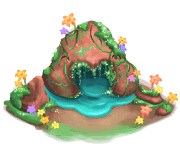 The Memorial Monster can be purchased for

or bred by using Earth and Ice elements in the Breeding Den. Hybrids may be needed for successful breeding. Also see the comment section below for some suggested combos.
Mythic Information
Although hatching a mythic version of the Memorial Monster is random, your best chance to get one is to breed 2 Memorial Monsters together. You must have the Mythic Cave on your island in order to get a mythic. You can also use boost to better your chances.
Monster Evolution
There are 2 stages in which Memorial Monster will evolve. Before you can reach Level 5, you must evolve your monster from a baby to a teen. The second stage is before reaching level 8 and evolves your monster from a teen to an adult. To evolve your monster you need to place it in the Dream Room. Below is how long it takes the Memorial Monster to evolve from each stage and the quick finish cost.
Evolve Time
Quick Finish Cost
Baby to Teen
5 Hours
5
Teen to Adult
20 Hours
20
Food Costs per Level
Baby
Teen
Adult
1
2
3
4
5
6
7
8
9
10
Food per Feeding
40
85
125
165
205
245
285
325
365
MAX
Total per Level
160
340
500
660
820
980
1,140
1,300
1,460
MAX
Totals
1,660
2,940
2,760
Needed for Max. Level
7,360
Earning Rates
Baby
Teen
Adult
1
2
3
4
5
6
7
8
9
10
Normal
3
7
9
11
12
13
14
16
17
22
Mythic
3
7
9
11
12
13
14
16
17
23
Notes
The Memorial Monster was introduced on May 24, 2012, as part of Game Update 1.3.0.
The Memorial Monster was re-introduced on February 17, 2013 to celebrate President's Day.