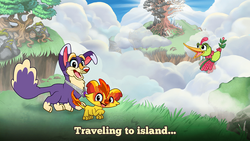 ---
With the release of the Social element in Tiny Monsters, many would like to grow their friends list quickly to obtain rewards:

,

, 

,

,
, or/and social xp. However, please keep in mind that both the Friendship Monster and the Unity Monster have their own individual requirements to evolve, and that you can only give 25/50 gifts per day. Please also see the Social Island page for more information.
When you see your Tree sparkling and a red heart icon on top, it means you are ready to collect rewards!
You begin earning 13
from each gift, but you can earn more
each time with higher Social Level gained from visiting other players' islands. Please also note that there used to be a limit to how many gifts your Tree can store at a time, a feature which has now been removed. You can now collect from your Tree as long as you have been gifted!
---

 Please add your Social ID, referral codes, etc. in the comment section of this page below if you want users to add you. Preferably, you should also include your game level in which players can double-check that they have added you correctly.